It's not just about historic buildings – the HAZ schemes also aims to implement a series of wider community activities and events to engage our local community in local heritage and culture. Furthermore, the scheme will also provide heritage skill training opportunities to teach skills in traditional buildings repair and maintenance.
Book now for our free traditional skills workshops
Lime Plastering- Tuesday the 15th of February 2022: 9.45am-4pm at Burnley College
Become an expert in working with lime at our plastering workshop. Learn the positives in historic building repair of using a lime mix and the different tools to use. Get valuable, practical hands on skills for beginners or plastering professionals. This course will be delivered with no more than 10 people to give you a tailored experience.
Decorative Plastering– Wednesday the 16th of February 2022: 9.45am-4pm at Burnley College
Learn how to do feature plaster work in this fun and practical based workshop. Get to grips with using the moulds whilst you mix and prepare your plaster and take home your creation. The course is capped at 10 people to ensure your experience is valuable.
Lime Pointing- Friday the 18th of February 2022: 9.45am-4pm at Burnley College
This hands on workshop is centred on the importance of lime in protecting stonework in many buildings around East Lancashire. Learn the differences in pointing types and the materials used then get to grips with making your own lime mix and practically applying it to our walls, using the various tools and techniques. This course will be capped at 10 people.
All food and drink and equipment is provided, including gloves and goggles. Attendees must bring their own boots (please let us know if you are unable to locate a pair).
Please email Megan Eastwood meastwood@burnley.gov.uk to book your space with the subject "Lime Plastering" "Decorative Plastering" "Lime Pointing" (relevant to the session(s) you want to attend). All information will be emailed to you. Please advise of any dietary requirements in your email.
Sign Writing Workshop on Saturday 29th of January 2022 or Thursday 17th February 2022.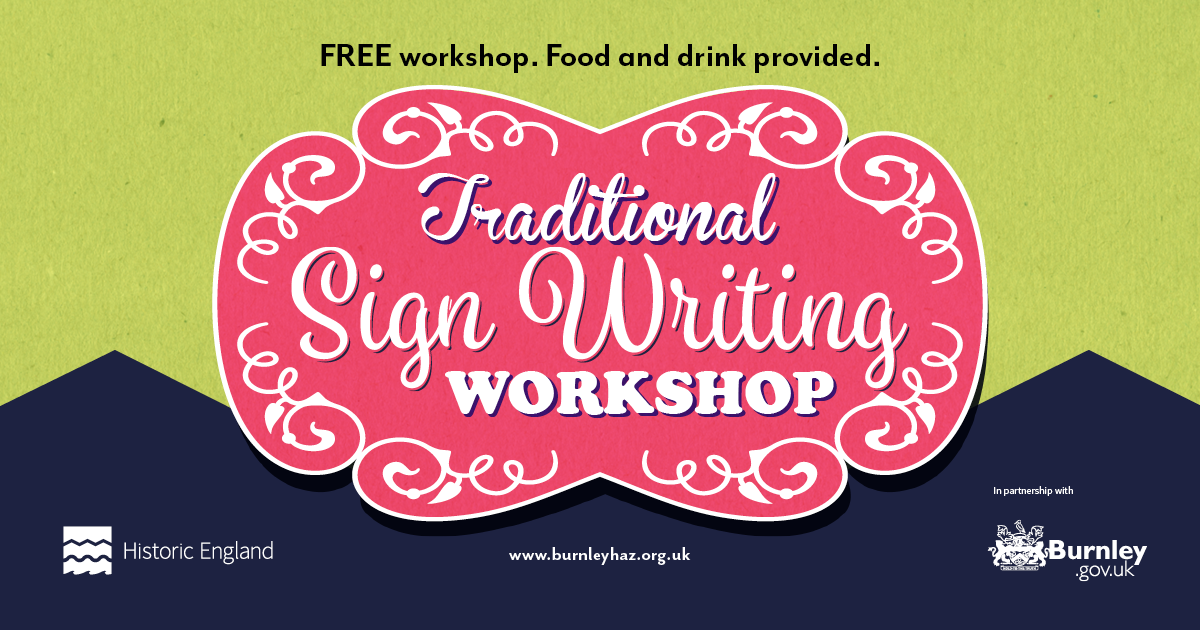 The one day course is 10am-4pm (with a flexible finish time) at Burnley Mechanics Theatre and is delivered by artist and craftsman Shane Johnstone.
Make your own mahl stick, learn traditional letter styles and how to achieve horizontal and vertical lines using the stick. Take home your own designed initial or house number using oil paints, gold leafing, finishing off with shadowing.
Book, please email Megan Eastwood: meastwood@burnley.gov.uk , stating the date of the course (Saturday 29th of January or Thursday 17th February) you'd like to attend and any dietary requirements. Spaces are limited to ensure everyone gets a hands on experience, so we advise reserving your slot ASAP.
** All equipment and food and drink is provided **